Shikkui Izumi : Highly polished Japanese plaster.
Shikkui Plaster is a traditional and innovative Japanese lime plaster made of slaked lime of high calcium purity with additives including seaweed extracts to help stability, soybean oil to improve workability and naturally boost water -repellent properties for exterior work, natural plant fibers to aid anti cracking (developed from centuries of earthquake experience) and other natural aggregates such as eggshells.
Shikkui Plaster formulations have been used widely throughout Japan for more than one thousand years, for both internal and external walls of houses, temples and castles, as well as for ceilings and specialist decorative purposes.
Stucco Veneziano Marmorino
Marmorino Grassello Di Calce: The ancient Romans were known for their expertise in plaster, but the art was apparently lost until it was revived again during the Renaissance when it was widely used for frescos, including those in the ceiling of Michelangelo's Sistine Chapel.
Venice became known for its plaster not only because of its beauty but also its durability. The Venetians used terra cotta scraps and leftover stone and marble mixed with lime to make a wall finish that was not only very fashionable, but also very practical since it resisted mildew even in very damp conditions - very important in a city built on water! It was often left white but can also be mixed with colors to give it a wide variety of decorative effects.
Time is at the center of Novacolor's Oxidation line of products, finishes that reproduce the natural flow of time. Oxidized textures that transform objects and walls in precious and unique pieces of art.
IRONIC
Decorative coating with rust effect, for interiors and exteriors
IRONic is a water-based system consisting of a base coat (IRONic Fondo) and an oxidative finish (IRONic Liquido Antichizzante).
The application of IRONic Liquido Antichizzante on IRONic Fondo produces an oxidative effect exactly alike the effect of an iron surface exposed to atmospheric agents' natural corrosion. The surfaces decorated with IRONic are dynamic and the aesthetic can change over time.
IRONic draws the line between tradition and innovation. With its decorative system based on polymers it is possible to achieve different oxidation effects, taking into account the clients requests
Mineral plaster coat in powder for interiors and exteriors, for cement effects
Archi+ Concrete is a mineral plaster coat in powder for interiors. It is made of well-seasoned hydrated lime putties, white cement, specific aggregates and modifiers carefully selected to ensure an excellent workability and to achieve cutting-edge elegant concrete effects, in line with the newest trends in the interior design.
Archi+ Concrete achieves post-industrial concrete-look textures, with elegant soft color washing shades. The thickness of Archi+ Concrete ensures high protection performances on the substrate where it is applied-on.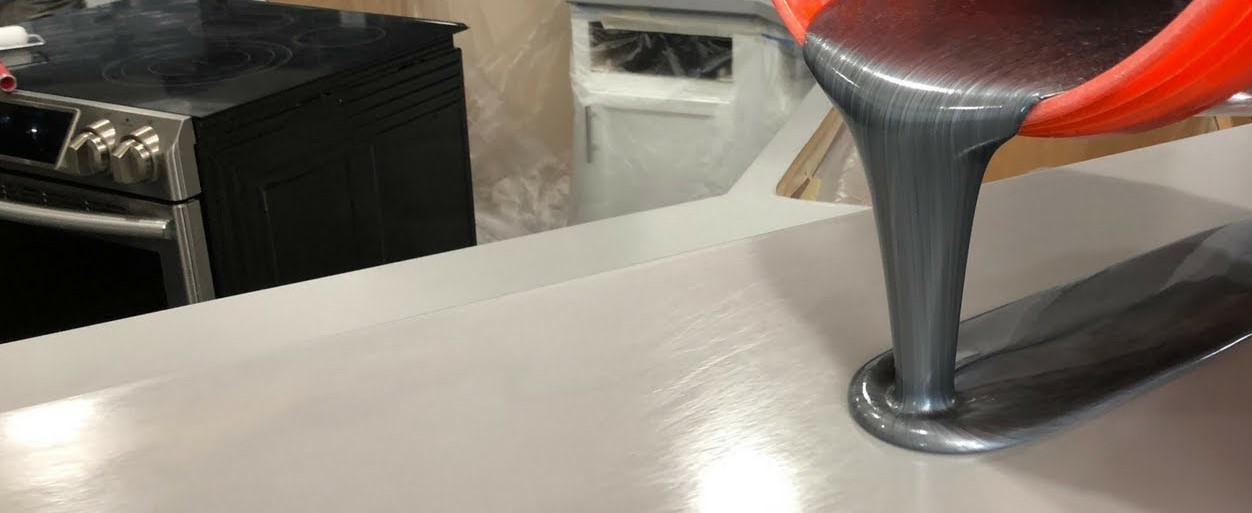 Epoxy Resin Counter Finishes
SurfacePro applies Leggari Epoxy Countertop system which is an ultra clear, UV resistant countertop or bar top epoxy designed for indoor and outdoor applications. This food safe product is perfect for refinishing your outdated kitchen countertops or bar tops. A great way to preserve and create a seamless, bacteria free finish for your butcher-block countertops, quartz countertops, wood countertops or just about anything else. Epoxy finishes are coatings with extreme durability, scratch resistance, and with the highest rated heat-resistance in the industry. For a crystal clear, glass finish that will protect and last a lifetime.
SurfacePro applies Leggari Epoxy products and EliteCrete Systems. These systems are a specialty, high build, self-leveling, fluid-applied floor coating. Engineered for commercial, industrial and residential applications. They are durable, long-lasting, aesthetically unique, easy to maintain and completely custom. A true work of art for your floor.